If you're going to be doing bushcraft/camping in Canada all year round, a very important concern for you is choosing gear that will be of use to you all 4 seasons. In Canada you may be faced with very different and equally harsh conditions depending on where you go, including cold temperatures, wetness, deep snow, fog, freezing rain. . . (You guys know what I mean) If your gear fails when you need it most, like when you've fallen through the ice and you need that fire now, you could be in real trouble.
Shopping at different outdoors stores, I came across an Army Surplus in Kingston (Ontario) that carried the Canadian forces Arctic mitts. I've been looking for mitts like these since I first started being interested in natural skills. Double layered, with leather palms and breathable waterproof nylons, these gloves fit like sleeping bags for your hands. They also feature a very useful patch of fur on the back of the mitt designed to "warm your face" aka wipe your nose with.
Well that got me thinking. . . usually when hiking I'll carry my knife inside my coat. Either on my belt or hanging from my neck. This is so that I can baby the blade, protect it from too much cold which would weaken the steel. To access my knife I open my coat, take my mitts off and use my bare hands or wear the liner gloves to manipulate the knife and make the cuts. If I'm doing a lot of woodwork outside, I'll upgrade to winterized leather gloves which won't shred the way fleece liners do. What about situations where you would want to wear your knife on the outside? Perhaps a military user that would have to carry it on his load bearing equipment (LBE), or an operator of some kind.
I toyed around with some of my blades while wearing my new Arctic mitts, to see just how much dexterity I had with them, and whether I could safely extract the blade and position it for use. These are the results.
First off a picture of the blades that came to play
From Top to bottom we have the FK A1, the ESEE RC5, the Grohman Russel knife, the FK S1, the EKA w11, the FK F1, ESEE RC3. On the side the trusty U2 which wasn't part of the test, and also a Mora that's not in the pic.
2 aspects of using a blade with mitts. . . . 1 ) how you're able to extract the blade from the sheath 2 ) how you're able to grip it safely in a variety of positions.
First up the EKA w11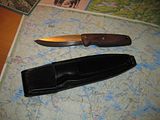 The EKA wasn't too bad in terms of comfort of holding it - could have been worse. This is because of the bulge in the handle, your hand tends to grasp that bulge. I'm pointing it out here with the plastic mora sheath.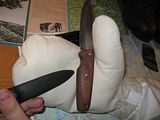 It wasn't even that bad to hold in a hammer grip. . . Note on this picture (as in the rest of the pics in this test) how close the base of the blade (the Ricasso for technically enclined folk) is to the fabric of the mitt. We can't have contact there. . . when you're freezing cold do you really want a gaping hole in your mitt?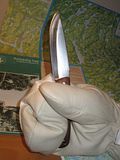 The EKA clearly wants to ride high in your mitted hammer grip, but the handle material itself makes no pretence at being grippy, and it wasn't particularly comfortable because your hand wants to squeeze the handle to get better traction. In this pic you see what I mean about riding high, and that there are no issues wearing bushcraft friendly leather gloves.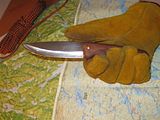 The really tough part of the w11, and why it is not suitable for gloved manipulation is because of the sheath. I like the W11 so far. . . . It's a decent blade despite being hollow ground. It's weak spot is the sheath which is not well designed IMO - I'll have a separate review on the W11 soon. With gloves or without your only recourse is to use your index and thumb and to pinch the exposed inch and half of handle and pull it out there.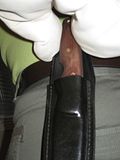 While we're on the subject of bulges, here's a Mors Kochanski style Mora carving knife which albeit has a shorter handle, but rides nicely in the hand.
We see this bulge here

**Viewer discretion is advised** however when considering the picture of the Mora in arctic gloves. . . .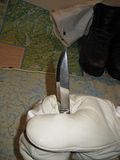 Ouch! (as the knife nut community cringes) Short smooth handles *and no finger guard*. . . . Not good for this use. Forget about extracting this knife with reduced dexterity. . . . Besides being a pain it would be dangerous. If you had to use this knife in the cold, you would have to take your mitts off and do your business and then put your mitts back on.
The ESSE RC5 didn't do too badly at all! Very broad handle with finger guard kept any glove material well away from the edge. Also the contoured handle - when your fingers are locked between a guard and a curved butt - locks the fabric much easier than any bulge or similar.
The RC-5's handle length meant you could even loosen up on the grip for added reach. . .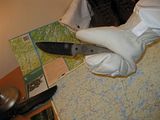 With the new Kydex sheath, the RAT 5 would also be really easy to extract from the sheath.
Now believe it or not I did want to keep this short. . . so I'll get to my conclusion.
Fallkniven knives are said to be designed with winter in mind. To this effect they are built with a full but enclosed tang, to limit the exposure of skin to cold metal and also preventing moisture from getting between the scales and tang of the blade and causing corrosion. The steel is tested to perform well in the cold (part of the reason for lamination), and it has very good corrosion resistance. Depending on which knife you get you'll get a different kind of thermoplastic polymer. In all cases a common comment was that they can be a bit hard on soft hands: and now we know why!
Maybe the A1's handle is longer than with the other knives, and that's why we're getting this huge clearance between the ricasso and the top of the mitt. . . .
No: here's the F1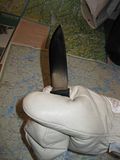 Fallkniven's depth of thought in their products is obvious in times like these where you finally find out why they leave so much extra fabric on the snap closure of the sheaths. . . Clearly so you can pinch it with low dexterity!
Now it's just a matter of extracting the blade.
A couple of things to learn about Fallknivens.
- The amount of research and thought they put into their blades is insane. Every design aspect that I could ask for in a blade is there. . . and almost always pertinent to the description that they make of the. - For the purposes of this review, they fit the bill of winter carry knives more than any in my collection because of ease of extraction, manipulation, and low winter maintenance (VG10 is VERY resistant to corrosion).
The only weak spot of Fallknivens, which is their tendancy to chip when put in contact with rocks or pebbles in the ground is obsolete in the winter. I dare you to find a rock in the snow. . . .
The other question that I wanted to address in this review is the question of guards. In the bushcraft community guardless knives have been intensely promoted, based on these arguments:
- you theoretically have more potential grips for precise carving and the like without a guard in the way, - you don't need a guard (typically we learn to use knives on guardless Swiss Army Knives), and - guards fit into the stigma of knives as weapons since the original purpose of a finger guard is to prevent forward egress of the hand on the blade during a stabbing motion (think about how much that would suck)
What today's experiment showed me was that guards can keep your mitts or gloves away from the ricasso of the blade, that when you have low dexterity (like when you've just fallen through the ice) it's nice to have the added insurance of guards in case you are confused and are trying to make a push cut, and finally that they give a decent point of reference in case you're manipulating your blade in the dark (think safety, if you know your hand is locked behind the guard there's no way that you can cut that hand).